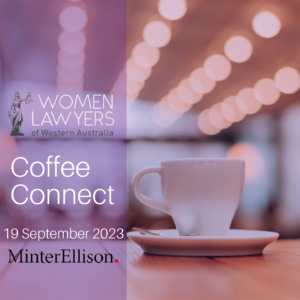 Our Coffee Connect events have been a huge hit so far.  Join us! It is free!
19 September 2023 at MinterEllison – please email your registration to lydia.mountford@minterellison.com
It is a fun and informal event before work (8 – 9 am), where we welcome and encourage people to come along with a winglady, or on your own, have a coffee and a croissant and play our 'one random fact' game with each other – the most random or interesting fact about someone in the room winning you an excellent book relating to women and law that we find inspiring and useful.  These events are a great opportunity for junior lawyers to practice some networking in a friendly space and chat to senior women in the profession.
Our next three Coffee Connect Sessions will be open to all women in law, so you can continue to experience and chat, but after that they will be a member exclusive benefit.
If you are a firm or organisation that is interested in hosting a Coffee Connect Session with us, we would love to hear from you – please get in touch at communications@wlwa.asn.au