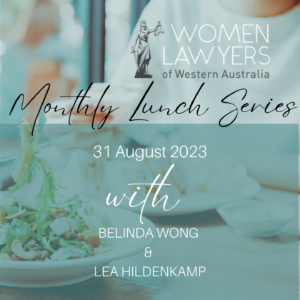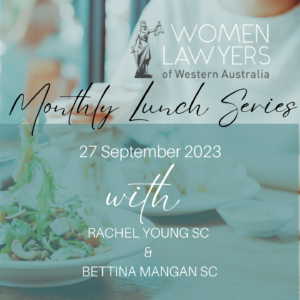 Once a month, we invite a leading woman in law join our members for lunch to have an informal chat about their experiences in law.
It is an opportunity for our members to meet leading women in law they may have previously only seen on the bench, on the other side of a matter or speaking at presentations.
We also find that sharing over lunch encourages a frank and fearless exchange of ideas and enables our members to make meaningful and helpful connections in a friendly, informal setting.
Our guests so far have been The Honourable Justice Janine Pritchard, Jenny Thornton, Schellie-Jayne Price, Her Honour Judge Whitby and Registrar Davies, Cav. Maria Saraceni and the Honourable Justice Fiona Seaward SC.
Held at Reveley's Café at the BGC Centre in the city (not the Elizabeth Quay restaurant of the same name!). Daily specials for $10 – easy, quick and central, with great company 👍🏼
We sell out most of the time so do register today!
31 August lunch with two of our 2023 Women of the year https://www.trybooking.com/CKIGC
27 September lunch with Young SC and Mangan SC https://www.trybooking.com/CKIGD